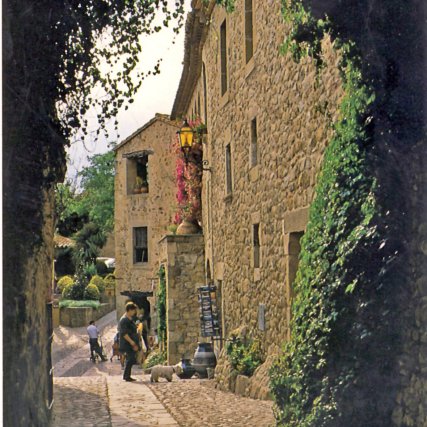 Pals is one of the most stunning and beautifully medieval towns in the Catalonia region. Situated on a hilltop amidst rural farming countryside,the central bell tower of Pals, can be seen for miles around and forms an imposing part of the landscape of Pals. Five miles from the Mediterranean and thirty miles from the French border in the Pyrenees, Pals is ideally situated as a base to explore legendary Catalonia.
Enjoy a relaxing morning wandering around tiny lanes visiting the craft shops and then enjoying typical Catalonian cuisine and atmosphere of the superb restaurants.
For Beach Lovers, Playa de Pals (or Beach of Pals) is just ten minutes drive from the main town. The Playa de Pals beach is a wide sandy beach some two and a half miles long, divided in two by a sand reef. There are many tiny coves and fishing villages within a short distance of Playa de Pals, which have bustling beach restaurants and breathtaking views, inevitably Playa de Pals is more crowded in the high season, but providing a complete contrast to the quiet sophistication of the Catalonian interior.